View our list of Sales and Specials on Brother and Baby Lock machines plus more.
---
---
BUY NOW!! Before Prices Go Up!
Ruthie is OVERSTOCKED, so we are offering the best prices ever on all Baby Lock Destiny II's, Alliances, Edurance II's, Valiant 10 Needles, Ovation Sergers and Evolution Sergers and one Demo 10 Needle Enterprise.
---
Praise the Lord on High for blessing us with a new outstanding Baby Lock Serger! Wait until you experience the new Baby Lock Triumph Serger in person. You will have to buy one and take it home! We will have 60 months no interest equal pay to qualified buyers.
We are selling the brand new Baby Lock Triumph at the best price you ever saw and unheard of Ruthies gourmet goodies too!! Why not trade-in your old Baby Lock in on a new Triumph today! We are taking trade-in's too!!
---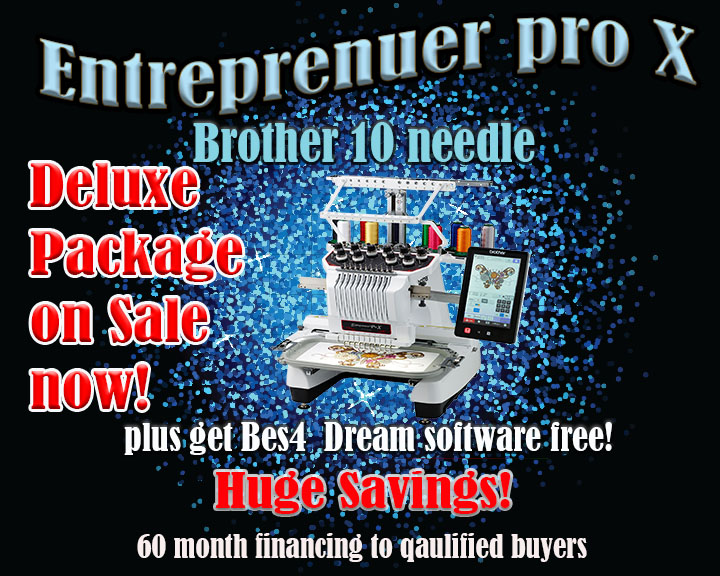 Biggest Savings Ever on the Best Package Deal you ever saw on the PR1050X. We have a brand new Brother Entrepreneur Pro-X 10-Needle Embroidery Machine.
You will love the quality stitching this machine does. The PR1050X is so user friendly you will love it.
When you purchase this machine you will receive lots of goodies too! You can go home and start embroidering right away!!
We are offering 60 Months Financing – THIS WEEK ONLY!!
(to qualified buyers, no interest equal pay!)
Why wait? Come to Ruthies Notions today and get your new Brother PR1050X.
---
This Brother Innov-ís XV8550D Embroidery and Sewing Machine is on sale now with the absolute best package deal you ever saw. Wait until you see all the goodies you get too!
Plus you can get 60 months financing THIS WEEK ONLY!
(to qualified buyers no interest equal pay)
Don't delay! Contact us or stop in today!!
---
Ruthie has Brand new Baby Lock Valiants, in the box at the best prices ever! 60 month financing to qualified buyers.
Features:
IQ technology
1,000 stitches per minute
120 built in embroidery designs
led spool stands lights
5 led lights
needle cam
offers editing on screen for designs
LCD HD screen
Biggest hoop size 14x 14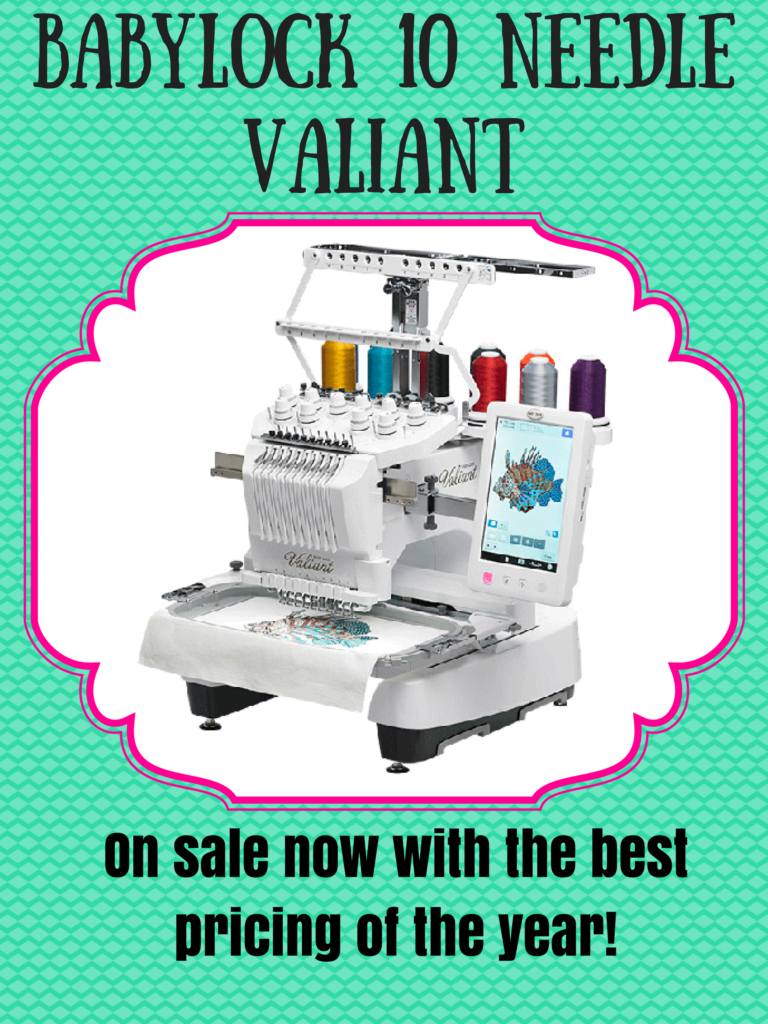 ---
We are offering the LOWEST prices of the year with the biggest discounts EVER on the Baby Lock Destiny II. 60 Month financing available!
Features:
IQ technology
decorative fills
90 embroidery designs
LCD HD screen
Editing resizing & grouping on screen
color visualizer
11.25″ to the right of needle (sewing)
needle beam (sewing)
needle cam
sensor pen
Positioning stickers
Biggest hoop size 9 1/2 x 14
---
The Baby Lock Enterprises are like brand new with very little hours. One even has 3 HOURS ONLY ON IT! Can you stand it?
---
We only have ONE Baby Lock Ovation floor model left at the very lowest price. I would not miss out on this great opportunity!
---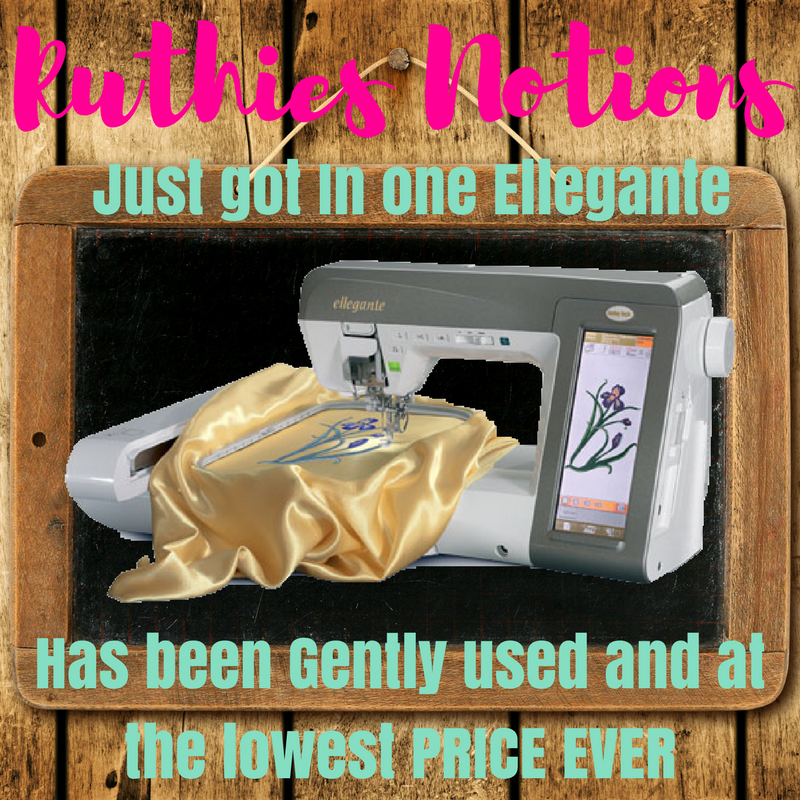 ---
HUGE SAVINGS!!!
Save tons on Deluxe Packages plus added bonuses!
We have two Baby Lock Destiny II Sewing and Embroidery Machines, a Valiant 10 Needle Embroidery Machine, a Baby Lock Endurance II Embroidery Machine, and 2 Ovation Sergers!
Hurry! They wont last long!!
---
Just in!
Ruthie just received a Baby Lock Enterprise 10-needle Embroidery Machine as a trade-in! She also has one floor model Enterprise.
Hurry! They won't last long!!!
---
Ruthie is selling ALL Koala Cabinets for up to an extra 30% off!!!
Hurry in! They won't last long!
---
Introducing the NEW EZ frames for single needles machines from Durkee Hoops!
These hoops will work on most Baby Lock Embroidery Machines!! You can buy them in sets or one hoop at a time!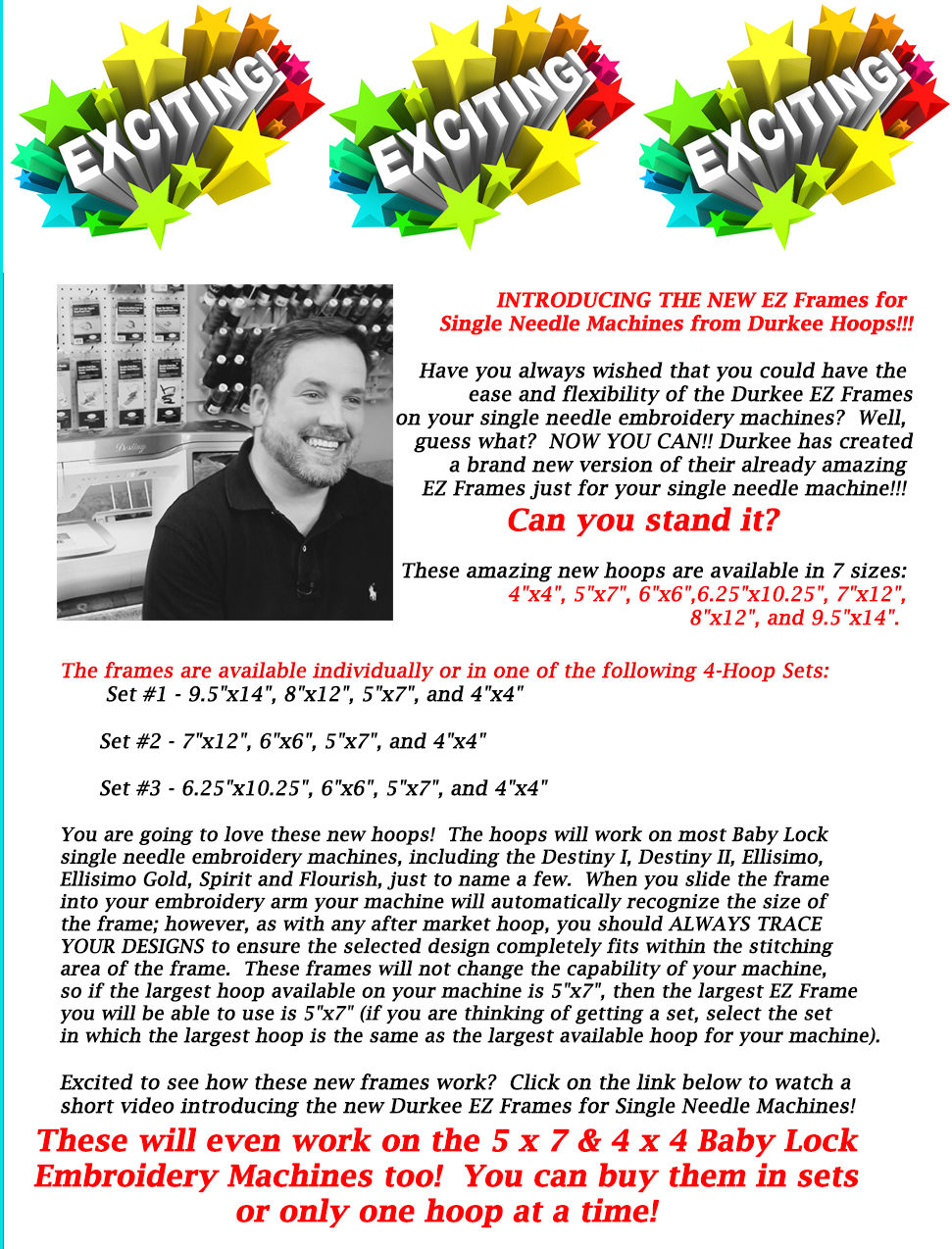 ---